The Pascack Valley Line of Metro-North Railroad (MNR) is operated by New Jersey Transit (NJ Transit). The MTA has an operating agreement with NJ Transit to provide service on the Pascack Valley and Port Jervis lines, which the MTA pays for. These lines are crucial to West of Hudson commuters, and unfortunately this service is being reduced. MNR express trains 1618 and 1639, as well as the regular operation of Friday-only outbound train 9653, will be temporarily canceled from June 4 to the end of the 2018. These service cuts are especially worrying for Rockland County riders, as a 2012 study found that Rockland pays $42 million more to the MTA than it gets back in service.
PTC installation is crucial, but should not impede the mobility of Rockland County commuters.
These cuts come as a result of the need for NJ Transit to install Positive Train Control (PTC) technology on cars and locomotives. Congress mandated PTC in 2008 and it must be installed by the end of 2018. PTC is an essential safety technology that can prevent train crashes and derailments caused by excessive speed, conflicting train movements, or human error. The National Transportation Safety Board (NTSB) estimates that PTC could have prevented dozens of accidents, including fatal ones like the 2013 Spuyten Duyvil crash, which killed four people and injured 60. PTC also could have mitigated the 2017 MNR train derailment in Rye, NY, where five of the train's 12 cars came off the tracks during rush hour. PTC installation is extremely important to protect passengers, train crews, pedestrians, and motorists, but should not require reductions in service, especially since so few trains service this area.
Along with the looming deadline to install PTC, NJ Transit also struggles with financial problems, the lack of train operators, and shortages in rolling stock that has led to overcrowding. Despite the federal PTC mandate, necessary upgrades should not come at the expense of rail commuters' quality of life.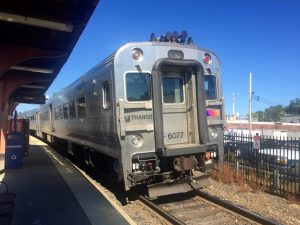 This decision harshly affects Metro-North's Pascack Valley Line riders in several respects:
Reduces AM peak hour service by more than 11 percent.
Reduces PM peak hour service by more than 12 percent.
Reduces the number of express trains available to MNR riders in half, from two to one in each peak period.
Eliminates a late afternoon Friday train on all but a few days.
This is not the first inconvenience that MNR's West of Hudson riders have endured, as there have been frequent cancellations of express trains in recent months. The time saved by riding express trains is important to many commuters, and an extended loss of this service could cause these riders to shift to other transportation options. The outcome could be an enduring loss of ridership resulting in further degradation of service.
The Metro-North Commuter Council (MNRCC) understands and supports the legal requirement to install PTC on cars and locomotives by the end of 2018 and recognizes the equipment availability issues that may result from this effort. NJ Transit's decision to substantially degrade the quality of service on the Pascack Valley Line, without additional alternatives for riders is simply unacceptable.
With no alternatives for Rockland County, such as shuttles bus service or at least reduced fares, the riders will suffer. The solution to PTC-related equipment availability issues must be more than merely cancelling trains for the remainder of 2018. NJ Transit should fulfill its commitments to provide adequate service to MNR's West of Hudson service area and to work cooperatively with MNR and the MTA to provide Pascack Valley Line riders with the level of service on which they rely.