The Center for an Urban Future recently conducted an informative look inside the transit challenges facing New York City's healthcare sector. The report – An Unhealthy Commute found that a significant number of New York City's healthcare workers living in the outer boroughs lack subway connections. Because subway connections are hard to come by in the periphery of Brooklyn, Queens and the Bronx, many healthcare workers endure long and complex commutes that can be up to two hours each way. The report draws much needed attention to improving and expanding bus service. Its recommendations include supporting a bus rescue plan, closing service gaps, adding more Select Bus Service, and ultimately rethinking and redesigning the current bus network. The City and MTA must look at outer borough bus service to make improvements and expansions where needed.
This report also serves as a great companion piece to the New York City Transit Riders Council's (NYCTRC) Freedom Ticket proposal. Providing improved bus connections to Long Island Rail Road stations in Southeast Queens will be necessary to get commuters to and from these stations once the pilot program is underway.
Queens Village, Cambria Heights, and Rosedale: One in six workers is employed in healthcare.
The working-class neighborhoods of Southeast Queens house and employ a significant portion of the City's healthcare workers. Traveling into and out of these neighborhoods is a challenge by public transit. According to the report, there are over 11,000 healthcare workers who commute from Queens Village, Cambria Heights, and Rosedale requiring more than 71 minutes to get to work, compared to 66 minutes for the average commuter in these neighborhoods. In nearby Jamaica, Hollis and St. Albans nearly 20% of the city's entire health aide population lives in these areas.
Public transit in Southeast Queens has not kept pace with the rapidly growing healthcare care sector. Without nearby subway connections and dwindling hope that new lines will be built, health aides here are in desperate need of better transit options.
Long Island Rail Road: An underutilized asset running through Southeast Queens
While these neighborhoods lack subway connections, there are six LIRR stations (Rosedale, Laurelton, Locust Manor, St. Albans, Hollis, and Queens Village) within reach. The LIRR lines traveling through Southeast Queens to Atlantic Terminal are currently running half empty. However, due to high peak-hour fares of $10.25 per-ride, many working-class residents cannot afford the costs, especially when combined with transit fares ($2.75 per-ride) to complete their journeys. Commuters wishing to use both the LIRR and NYC Transit subways and buses have to pay up to $347 per month in order to reduce their travel times. These high fares create a financial barrier that many simply cannot afford.
In 2015, the New York City Transit Riders Council (NYCTRC) proposed Freedom Ticket, which would reduce city LIRR fares and provide a free transfer to NYC Transit subways and buses. Freedom Ticket would address this steep financial barrier by reducing combined fares by as much as 36%, and be able to drastically reduce outer-borough commute times. One-way commute times into lower Manhattan could be reduced from nearly an hour and a half down to just 55 minutes.
Required departure times from Rosedale, Queens to arrive at Fulton Center by 9:00 AM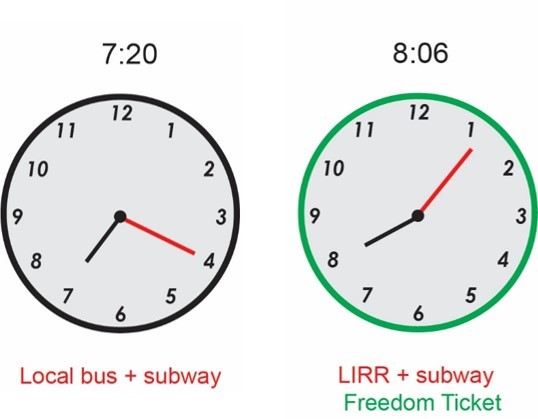 In addition to the recommendations put forth by the Center for an Urban Future, Freedom Ticket would be able to address the following:
Make transit more affordable for low-income workers
Make it a priority to improve transit service in the four boroughs outside Manhattan
Explore strategies to target the needs of home health aides
Access to affordable, efficient, and reliable transit is paramount on all modes be it subway, bus, or commuter rail. Where deficiencies in one exist, the others must pick up the slack in order to support working populations. Healthcare workers are an integral part of our urban fabric and require improved transit to perform their much needed roles. Let us turn these unhealthy commutes into commutes that help to achieve healthier New York communities for all.