NYCTRC Supports the Staten Island Express Bus Redesign
In 2015, NYC Transit began an immense project to reimagine the bus network on Staten Island. Due to the complexities and scale of the project, it was decided to start with the express bus network in light of frequent rider complaints of poor reliability and long travel times. The Staten Island Express Bus Redesign Project is focused on making routes more direct, reducing route miles in Manhattan, and increasing stop distances to increase speed and reliability.
During this time NYC Transit staff has proactively engaged with communities on Staten Island, soliciting input from over 2,500 riders through surveys and community outreach events. While this effort was underway a group known as The Bus Turnaround Coalition called for a complete restructuring of the NYC Transit bus network due to poor performance and declining ridership. Recommendations include redesigning routes, all-door boarding, transit signal priority, and increasing transparency about bus performance. NYC Transit President Andy Byford has accepted these and other recommendations with open arms, starting with the implementation of the bus performance dashboard that increases transparency on bus performance. This coupled with the Staten Island project are the first steps to reimagining the City's overall bus network.
Proposed Staten Island express bus improvements are long overdue.
Much of the Staten Island bus network has been in place for over fifty years. Many existing express bus routes are indirect and include lengthy on-Island travel before beginning non-stop express service into Manhattan. The average express bus route makes 27 stops before leaving Staten Island, compared to the S79 Select Bus Service that makes half as many stops on the Island and travels 13 percent faster.  The redesign also reduces the per route average from 27 to 15. More direct routing means fewer turns and less time spent on local streets.
Off the Island, nearly half of Staten Island express bus riders use routes that serve both Downtown and Midtown. In the morning Midtown riders ride on buses through Downtown stops and congestion, while afternoon Downtown riders wait for buses delayed by congestion in Midtown. On some routes, nearly 50 percent of running time is spent on congested Manhattan streets. In contrast, routes that travel directly to either Midtown or Downtown achieve average speeds that are 25 to 40 percent faster than routes that serve both areas.
Recommended improvements use existing resources already allocated to the bus network.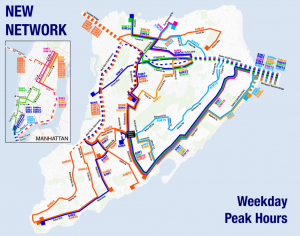 NYC Transit presented recommendations that are fiscally feasible to implement by using existing resources. These recommendations include:
Reducing the average Manhattan express bus route from 3 miles to 1.5 miles per route.
Creating more direct routes by reducing the average number of turns at intersections.
Increasing route mileage spent running non-stop on highways.
Increasing distance between bus stops to keep buses moving.
These improvements will result in running time reductions of at least 20 minutes per route, with most riders experiencing travel time reductions compared to what exists today. Most express bus riders are looking forward to the improvements with 76 percent of riders supporting the redesign.
This change, like any other, will require some time for riders to adjust.
Riders will receive improved bus speeds and travel times, a more efficient network, improved reliability, and ultimately more daily express bus trips with the present level of resources. Beyond the benefits they provide to commuters, these changes create better connections between the various parts of the city.
The team at NYC Transit is expecting to implement the redesign recommendations by August 2018, and will begin looking at the rest of the City starting with the Bronx bus network. Overhauling the entire bus network will be a heavy lift, but it is ever so necessary as pointed out by the Bus Turnaround Coalition. "Changes that have been made to the network have often been piecemeal in nature, resulting in a network that doesn't add up to provide the direct, fast, and frequent service New York needs."
The lessons learned from the Staten Island project will help inform NYC Transit as it takes next steps to address the entire network. The NYCTRC supports efforts taken so far on Staten Island, and are looking forward to the next phase of bus redesigns that will hopefully result in more direct, fast, and frequent buses.