The Cost of Congestion to the MTA and Its Riders
At last month's MTA Board meeting, Ellyn Shannon, PCAC's Associate Director, testified to the MTA board on behalf of the New York City Transit Riders Council (NYCTRC).  Ms. Shannon proposed that in light of NYC Transit's visionary Bus Action Plan, the MTA Board should further support the effort by voting for an Economic Impact Analysis on the cost of congestion to the MTA and its riders.  With elected officials raising concerns about the burden of congestion pricing on drivers, what about the burden of congestion on bus riders?
Unreliable bus service due to traffic congestion has only vaguely been discussed by the MTA and transit advocates, which is why we are proposing this analysis.  Clear numbers are necessary to understand the gravity of congestion's impact on bus service.
Assessing the costs
Running a slow system costs more than running a fast system. This applies to both buses and subways. The graph below shows the percent difference in travel times between AM non peak and AM peak for weekday riders on a variety of Manhattan bus routes. As a result, here are some of the costs that are incurred.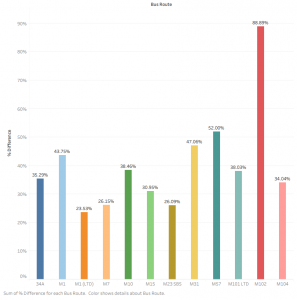 If every weekday, the run time during the peak is 30-40% longer than the off peak due to congestion, then several negative impacts occur:
More buses are needed for any given route
More mechanics are needed to repair the buses
More depot space is needed to store buses
More bus operators are needed to drive the buses
More fuel is needed to run the additional buses
Revenues are lost as riders switch to for-hire-vehicles like Uber and Lyft or further add to the overcrowding on the subway.
Our proposal aims to make an important inroad in the congestion pricing discussion. By reducing congestion, more frequent service and greater reliability is possible for the same amount of spending. We call on MTA Board Members to support advancing an Economic Impact Analysis on the cost of congestion to the MTA and its riders.  This analysis must also include the cost of not having enough bus lane enforcement cameras that capture the critical problem of vehicles blocking bus lanes.
We believe the value of the MTA producing this study is critical.  They have the immediate access and best understanding of which records are most relevant to this study, enabling them to complete it and make it public as quickly as possible.  Speeding up buses sooner rather than later is an integral component to reducing travel times for our riders.