We commend and support the Port Authority of New York & New Jersey (PANYNJ) and its expert panel for their decision to scrap the proposed LaGuardia Airport AirTrain. The project had ballooned in cost to $2.4 billion, a staggering amount for a project that would have produced minimal time-savings for travelers. The decision correctly included a recommendation to advance airport transit improvements that can be implemented on a faster timeline to benefit riders, and yield a greater return on investment.
At the same time, we believe the solution to the LaGuardia transit accessibility problem should not be binary, with the cost-effective bus alternatives being considered as the only solution. We support a "yes, and" approach that includes near-term improvements to existing bus service, including separate, dedicated bus lanes, and a new shuttle from the end of the N/W Subway line in Astoria, in addition to long-term improvements that build on the success of the city and region's extensive and robust rail network.
We believe that the city and the PANYNJ must continue to plan for a long-term solution that expands access to the NYC Subway, the Long Island Rail Road, and Metro-North to enable a more seamless trip to LaGuardia for millions more travelers and thousands of airport workers, and allow transit to better compete with its strongest competition: taking a taxi or private car. These could come in the form of an extension of the N/W line from Astoria to the airport; a future extension of the proposed Interborough Express (IBX); and/or building a new light rail shuttle from Woodside Station, a major subway and LIRR transfer hub in Central Queens. We also support a potential Queens stop on the Penn Access route that would add greater regional connectivity.
This graphic demonstrates the myriad opportunities to provide connections to LaGuardia that should be considered in the longer-term, even as the more immediate solution of dedicated bus lanes and a shuttle service are put into place.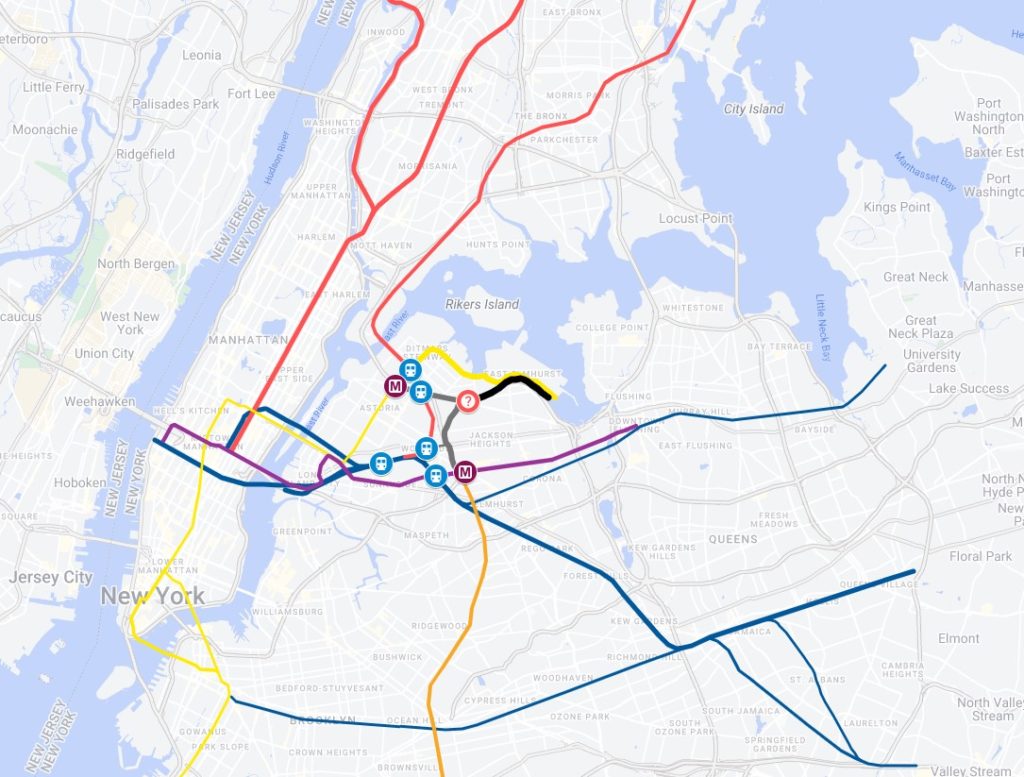 We are confident that with continued planning and investment, these options can one day become a reality. We applaud the decision to scrap the wrong-way AirTrain project, and urge the Port Authority, city, and MTA to continue to plan for the future.